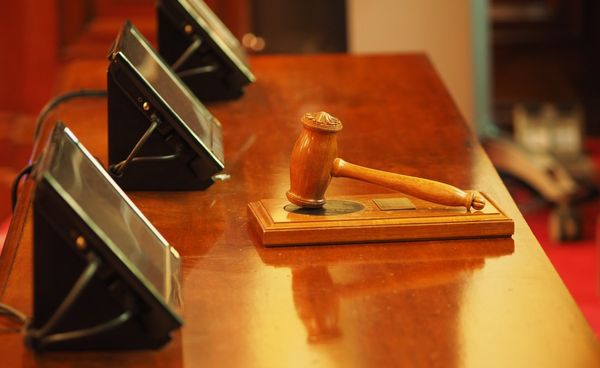 The core functions of the Judiciary are:  
Administer justice through resolving disputes between individuals, and between the State and individuals.   
Interpret the Constitution and the laws of Uganda.   
Promote the rule of law and contribute to the maintenance of order in society.  
Safeguard the Constitution and uphold democratic principles.  
Protect human rights of individuals.  
These functions are carried out with the help of a team of dedicated judicial officers: Download the Full List of Judicial Officers as at July 2022
LIST OF JUDICIAL OFFICERS




AS AT JULY 20 2022




SUMMARY (BY GENDER)

 
 
 

CATEGORY

FEMALE

MALE

TOTAL

 

JUSTICES & JUDGES

46 (48.4%)

49 (51.5%)

95

 

REGISTRARS

29 (56.8%)

22 (43.1%)

51

 

MAGISTRATES

201 (50%)

201 (50%)

402

 

TOTAL

276

(50.3%)

272

(49.6%)

548

 
 
 

BREAKDOWN

 

CATEGORY

FEMALE

MALE

TOTAL

 

SUPREME COURT JUSTICES

5

3

8

 

COURT OF APPEAL/CONSTITUTIONAL COURT JUSTICES

6

9

15

 

HIGH COURT JUDGES

26

30

56

 

ACTING JUDGES

9

7

16

 

CHIEF REGISTRAR

1

0

1

 

REGISTRARS

4

2

6

 

DEPUTY REGISTRARS

14

12

26

 

ACTING DEPUTY REGISTRARS

4

1

5

 

ASSISTANT REGISTRARS

5

7

12

 

ACTING ASSISTANT REGISTRARS

1

-

1

 

CHIEF MAGISTRATES

21

26

47

 

ACTING CHIEF MAGISTRATES

24

16

40

 

MAGISTRATES GRADE I

121

105

226

 

ACTING MAGISTRATES GRADE I

29

35

64

 

MAGISTRATES GRADE II

6

19

25

 

TOTAL

276

272

548

 
 
 
 
 
 
 
 
 
 
 
 
 
 
 
 
 
 
 
 
 
 

JUSTICES OF THE SUPREME COURT

 
 
 
 
 
 
 
 
 
 
 
 
 
 
 
 
 
 
 
 

No

NAME

COURT

 

1.

Hon. Justice Alfonse Chigamoy Owiny – Dollo

CHIEF JUSTICE /HEAD OF COURT

 

2.

Hon. Lady Justice Dr. Esther Kisaakye

JUSTICE    OF    THE    SUPREME COURT

 

3.

Hon. Lady Justice Stella Arach-Amoko

JUSTICE    OF    THE    SUPREME COURT

 

4.

Hon. Justice Rubby Aweri Opio

JUSTICE COURT

OF

THE

SUPREME

 

5.

Hon. Lady Justice Faith Essy Mwondha

JUSTICE COURT

OF

THE

SUPREME

 

6.

Hon.    Lady    Justice    Prof.    Lillian Ekirikubinza

Tibatemwa

JUSTICE COURT

OF

THE

SUPREME

 

7.

Hon. Lady Justice Percy Night Tuhaise

JUSTICE COURT

OF

THE

SUPREME

 

8.

Hon. Justice Mike Chibita

JUSTICE COURT

OF

THE

SUPREME

 
 
 
 
 
 
 
 
 
 
 
 
 
 
 
 
 
 
 
 
 

JUSTICES OF THE COURT OF APPEAL

 
 
 
 
 
 
 
 
 
 
 
 
 
 
 
 
 
 
 

No

NAME

COURT

 

1.

Hon. Justice Richard Buteera

DEPUTY CHIEF JUSTICE /HEAD OF COURT

 

2.

Hon. Justice Kenneth Kakuru

JUSTICE COURT OF APPEAL

 

3.

Hon. Justice Geoffrey Kiryabwire

JUSTICE COURT OF APPEAL

 

4.

Hon. Justice Fredrick Martin Stephen Egonda-Ntende

JUSTICE COURT OF APPEAL

 

5.

Hon. Lady Justice Elizabeth Musoke

JUSTICE COURT OF APPEAL

 

6.

Hon. Justice Cheborion Barishaki

JUSTICE COURT OF APPEAL

 

7.

Hon. Lady Justice Hellen Abulu Obura

JUSTICE COURT OF APPEAL

 

9.

Hon. Lady Justice Dr. Catherine K. Bamugemereire

JUSTICE COURT OF APPEAL

 

10.

Hon. Justice Stephen Musota

JUSTICE COURT OF APPEAL

 

11.

Hon. Justice Madrama Izama Christopher

JUSTICE COURT OF APPEAL

 

12.

Hon. Justice Kibeedi Muzamiru Mutangula

JUSTICE COURT OF APPEAL

 

13.

Hon. Lady Justice Irene Mulyagonja

JUSTICE COURT OF APPEAL

 

14.

Hon. Lady Justice Monica Kalyegira Mugenyi

JUSTICE COURT OF APPEAL

 

15.

Hon. Justice Christopher Gashirabake

JUSTICE COURT OF APPEAL

 

16.

Hon. Lady Justice Eva Luswata

JUSTICE COURT OF APPEAL

 
 
 
 
 
 
 
 
 
 
 
 
 
 
 
 
 
 
 
 
 
 
 

JUDGES OF THE HIGH COURT

 
 
 
 
 
 
 
 
 
 
 
 
 
 
 
 
 
 
 
 
 

No

NAME

COURT

 

1.

Hon. Dr. Justice Flavian Zeija

PRINCIPAL JUDGE / HEAD OF COURT

 

2.

Hon. Justice Lawrence Gidudu

Head, ANTI-CORRUPTION DIV.

 

3.

Hon. Dr. Justice Andrew Bashaija

Head, INTERNAT'L CRIMES DIV.

 

4.

Hon. Justice Nyanzi Yasin

Judge, LAND DIVISION

 

5.

Hon. Dr. Justice Henry Peter Adonyo

Resident Judge, SOROTI

 

6.

Hon. Lady Justice Margaret Tibulya

D/Head,        ANTI-CORRUPTION DIV.

 

7.

Hon. Lady Justice Elizabeth Jane Alividza

Judge,    INTERNAT'L    CRIMES DIV.

 

8.

Hon. Justice Godfrey Namundi

Head, MBALE CIRCUIT

 

9.

Hon. Lady Justice Henrietta Wolayo

Resident Judge, MUBENDE

 

10.

Hon. Justice David Batema

Head, MUKONO CIRCUIT

 

11.

Hon. Justice John Eudes Keitirima

Head, LAND DIVISION

 

12.

Hon. Justice Henry Kawesa Isabirye

D/Head, LAND DIVISION

 

13.

Hon. Lady Justice Elizabeth Kibula Kabanda

Judge,    INTERNAT'L    CRIMES DIV.

 

14.

Hon. Lady Justice Damalie Lwanga

ED,       JUDICIAL       TRAINING INSTITUTE

 

15.

Hon. Lady Justice Lydia Mugambe Ssali

LEAVE

 

16.

Hon. Justice Duncan Gaswaga

Resident Judge, LIRA

 

17.

Hon. Justice Vincent Okwanga

Judge,    INTERNAT'L    CRIMES DIV.

 

18.

Hon. Lady Justice Alexandra Nkonge Rugadya

Judge, LAND DIVISION

 

19.

Hon. Dr. Lady Justice Winfred Nabisinde

Head, JINJA CIRCUIT

 

20.

Hon. Justice Michael Elubu

Head, CRIMINAL DIVISION

 

21.

Hon. Lady Justice Margaret Mutonyi

Judge, CRIMINAL DIVISION

 

22.

Hon. Justice David Matovu

Head, FAMILY DIVISION

 

23.

Hon. Lady Justice Patricia Basaza Wasswa

Judge, LAND DIVISION

 

24.

Hon. Lady Justice Ketrah Kitariisibwa Katunguka

D/Head, FAMILY DIVISION

 

25.

Hon. Justice Moses Kawumi Kazibwe

Resident Judge, KABALE

 

26.

Hon. Justice Mubiru Stephen

Head, COMMERCIAL DIVISION

 

27.

Hon. Lady Justice Anne Mugenyi Bitature

D/Head,                 COMMERCIAL DIVISION

 

28.

Hon. Lady Justice Susan Okalany

Judge,    INTERNAT'L    CRIMES DIV.

 

29.

Hon. Justice Oyuko Anthony Ojok

Resident Judge, MPIGI

 

30.

Hon. Justice Gadenya Paul Wolimbwa

Judge, CRIMINAL DIVISION

 

31.

Hon. Justice Ajiji Alex Mackay

Resident Judge, GULU

 

32.

Hon. Lady Justice Cornelia Kakooza Sabiiti

Judge, COMMERCIAL COURT

 

33.

Hon. Justice AsiimweTadeo

D/Head, CRIMINAL DIVISION

 

34.

Hon. Lady Justice Kazaarwe Olive Mukwaya

Judge, LAND DIVISION

 

35.

Hon. Justice Sekaana Musa

Head, CIVIL DIVISION

 

36.

Hon. Lady Justice Joyce Kavuma

Resident      Judge,      MBARARA CIRCUIT

 

37.

Hon. Justice Emmanuel Baguma

D/Head, CIVIL DIVISION

 

38.

Hon. Justice Richard Wejuli Wabwire

Judge, COMMERCIAL DIVISION

 

39.

Hon. Lady Justice Esta Nambayo

Judge, CIVIL DIVISION

 

40.

Hon. Justice Isaac Muwata

Judge, CRIMINAL DIVISION

 

41.

Hon. Justice Isah Serunkuma

Resident Judge, ARUA

 

42.

Hon. Justice Vincent Emmy Mugabo

Head, FORT PORTAL CIRCUIT

 

43.

Hon. Justice Phillip Odoki

Judge, CIVIL DIVISION

 

44.

Hon. Lady Justice Immaculate Busingye

Judge, LAND DIVISION

 

45.

Hon. Lady Justice Susan Abinyo

Judge, COMMERCIAL DIVISION

 

46.

Hon. Justice Byaruhanga Jesse Rugyema

Resident Judge, MASINDI

 

47.

Hon. Justice Boniface Wamala

Judge, CIVIL DIVISION

 

48.

Hon. Lady Justice Jane Okuo

Judge, ANTI-CORRUPTION DIV.

 

49.

Hon. Lady Justice Jeanne Rwakakooko

Judge, COMMERCIAL DIVISION

 

50.

Hon. Lady Justice Katamba Victoria Nakintu Nkwanga

Head, MASAKA CIRCUIT

 

51.

Hon. Lady Justice Margaret Apiny

Resident Judge, MBALE

 

52.

Hon. Lady Justice Florence Nakachwa

Resident Judge, MUKONO

 

53.

Hon. Justice Tom Chemutai

Resident Judge, JINJA

 

54.

Hon. Justice Vincent Wagona

Resident Judge, FORT PORTAL

 

55.

Hon. Lady Justice Alice Komuhangi

Judge FAMILY DIVISION/ ICD

 

56.

Hon. Justice Lawrence Tweyanze

Resident Judge, MASAKA

 

ACTING JUDGES

 

1.

Hon. Justice Emokor Samuel

JUDGE DESIGNATE

 

2.

Hon. Lady Justice Nassuna Flavia Matovu

JUDGE DESIGNATE

 

3.

Hon. Lady Justice Kanyange Susan

JUDGE DESIGNATE

 

4.

Hon. Lady Justice Ikit Mary

JUDGE DESIGNATE

 

5.

Hon. Justice Dr. Singiza Douglas Karekona

JUDGE DESIGNATE

 

6.

Hon. Justice Namanya Bernard

JUDGE DESIGNATE

 

7.

Hon. Lady Justice Patricia Kahingi Asiimwe

JUDGE DESIGNATE

 

8.

Hon. Justice Ocaya Thomas Ojele Rubanga

JUDGE DESIGNATE

 

9.

Hon. Lady Justice Christine Kaahwa

JUDGE DESIGNATE

 

10.

Hon. Lady Justice Patricia Mutesi

JUDGE DESIGNATE

 

11.

Hon. Justice Okello George

JUDGE DESIGNATE

 

12.

Hon. Lady Justice Bukirwa Faridah Shamilah

JUDGE DESIGNATE

 

13.

Hon. Lady Justice Magala Harriet Grace

JUDGE DESIGNATE

 

14.

Hon. Justice Acellam Collins

JUDGE DESIGNATE

 

15.

Hon. Lady Justice Nagawa Celia

JUDGE DESIGNATE

 

16

Hon. Justice Nshimye Allan Paul Mbabazi

JUDGE DESIGNATE

 
 
 
 
 
 
 
 
 
 
 
 
 
 
 
 
 
 
 
 
 
 
 
 
 

CHIEF REGISTRAR

 
 
 
 
 
 
 
 
 
 
 
 
 
 
 
 
 
 
 
 
 
 
 

No

NAME

COURT

1.

HW Langa Sarah Siu

CHIEF REGISTRAR

 
 
 
 
 
 
 
 
 
 
 
 
 
 
 
 
 
 
 
 
 
 
 
 

REGISTRARS

 
 
 
 
 
 
 
 
 
 
 
 
 
 
 
 
 
 
 
 
 
 
 

No

NAME

COURT/STATION

1.

HW Kisawuzi Eliasa Omar

MEDIATION

2.

HW Ssali Harriet Nalukwago

SUPREME COURT

3.

HW Kwizera Amos

PLANNING & DEVELOPMENT

4.

HW Bareebe Rosemary Ngabirano

MAGISTRATES        AFFAIRS MANAGEMENT

&

DATA

5.

HW Nabakooza Flavia

COMMERCIAL DIVISION

6.

HW Kisakye Mary Lukwago Kaitesi

RRESEARCH AND TRAINING, JTI

DEPUTY REGISTRARS

 
 
 
 
 
 
 
 
 
 
 
 
 
 
 
 
 
 
 
 
 
 

No

NAME

COURT/STATION

1.

HW Dr. Nakibuule Gladys Kisekka

JTI,RESEARCH

2.

HW Nizeyimana Deo

MEDIATION

3.

HW Waninda Fred K.B

JINJA

4.

Dr. Nkonge Agnes

MEDIATION

5.

HW Khainza Eleanor Mary

MEDIATION

6.

HW Festo Nsenga

CRIMINAL DIVISION

7.

HW Angualia Moses Gabriel

INSPECTORATE

8.

HW Kaweesa Godfrey

MUBENDE

9.

HW Nabaggala Sylvia Mbuga

INDUSTRIAL COURT

10.

HW Atingu Beatrice Stella

INTERNATIONAL CRIMES DIVISION

11.

HW Ayebare Thadius Tumwebaze

PRIVATE LEGAL SECRETARY TO THE CHIEF JUSTICE

12.

HW Karemani Jamson Karemera

CIVIL/PRO

13.

HW Ajio Hellen

FAMILY DIVISION

(In-charge)

14.

HW Babirye Mary

SUPREME COURT

15.

HW Lamunu Pamela Ocaya

ANTI-CORRUPTION COURT

16.

HW Natukunda Janeva

LAND

(In-charge)

17.

HW Hatanga Juliet Harty

COMMERCIAL

18.

HW Katushabe Prossy

FAMILY

19.

Dr. Mushabe Alex Karocho

PRIVATE LEGAL SEC. TO DCJ / APPELLATE MEDIATION

20.

HW Ntalo Nasulu Hussein

GULU HIGH COURT

21.

HW Edoku John Paul

REGISTRY OF PLANNING & DEVELOPMENT

22.

HW Bucyana Lillian

COURT OF APPEAL

23.

HW Agwero Catherine

ARUA

24.

HW Ayo Miriam Eddy Okello

LAND

25.

HW Ereemye Jumire James Mawanda

MAGISTRATES        AFFAIRS        &        DATA MANAGEMENT

26.

HW Borore Julius Kyaka

MASAKA

OTHER Deputy Registrars

27.

HW Kawuma Cissy Mudhasi

INTERDICTION

ACTING DEPUTY REGISTRARS

1.

HW Sempala Dorothy Lwanga

INSPECTORATE OF COURTS

2.

HW Nanteza Zulaika

MBARARA

3.

HW Akullo Elizabeth Ogwal

LAND

4.

HW Twakyire Samuel

KABALE

5.

HW Okeny Susanne Abwoch Anyala

FAMILY

ASSISTANT REGISTRARS

 
 
 
 
 
 
 
 
 
 
 
 
 
 
 
 
 
 
 
 
 
 

No

NAME

COURT/STATION

1.

HW Twinomuhwezi Henry

COURT OF APPEAL

2.

HW Didas Muhumuza

CRIMINAL DIVISION

3.

HW Atukwasa Justine

MPIGI

4.

HW Ssalaam Godfrey Ngobi

LIRA

5.

HW Kintu Simon Zirintusa

LAND

6.

HW Sayuni David

MASINDI

7.

HW Amoko Patricia

PRIVATE   LEGAL REGISTRAR

SECRETARY

TO

THE

CHIEF

8.

HW Chemeri Jessica

SOROTI

9.

Dr. Lubowa Daniel

MEDIATION

10.

HW MatengaDawa Francis

FORT PORTAL

11.

HW Alum Agnes

CIVIL

12.

HW Mulondo Mastulah

SMALL CLAIMS

ACTING ASSISTANT REGISTRARS

1.

HW Nakitende Juliet

COMMERCIAL

2.

HW Kagoda Moses S. Ntende

MBALE

3.

HW Nakadama Esther Lydia Mubiru

LUWERO

4.

HW Butanula Rashida

LAND

 
 
 
 
 
 
 
 
 
 
 
 
 
 
 
 
 
 
 
 
 
 
 

CHIEF MAGISTRATES

 
 
 
 
 
 
 
 
 
 
 
 
 
 
 
 
 
 
 
 
 
 

No.

NAME

COURT

IN MAGISTERIAL AREAS

1.

HW Kaggwa John Francis

WAKISO

2.

HW Muhimbise Gibson

NTUNGAMO

3.

HW Ssejemba Deogratius

BUHWEJU

4.

HW Amono Monica

APAC/OYAM

5.

HW Nabaasa Ruth

MPIGI

6.

HW Kakooza Elias

NAKAWA

7.

HW Nasambu Esther Rebecca

MAGISTRATES AFFAIRS & DATA MANAGEMENT

8.

HW Sayekwo Emmy G.

MOROTO

9.

HW Munobe Samuel

OFFICE OF THE REGISTRAR HIGH COURT

10.

HW Kule Moses Lubangula

KAMWENGE

11.

HW Mugala Jane

LUGAZI

12.

HW Obong George

ARUA

13.

HW Kamasanyu Gladys Musenze

STANDARDS AND UTILITIES COURT

14.

HW Tusiime Sarah Bashaija

BUGANDA ROAD

15.

HW Talisuna Patrick

MENGO

16.

HW Ajuna Doreen

TORORO

17.

HW Basemera Sarah Anne

MAKINDYE

18.

HW Barigye Said

GULU/NWOYA

19.

HW Abiti Samson Loum

LIRA

20.

HW Opio James

KASESE

21.

HW Mbabazi Edith Mary

RUKUNGIRI

22.

HW Aanyu Margaret

SOROTI/KABERAMAIDO/KATAKWI

23.

HW Amabilis Stella Maris

ENTEBBE

24.

HW Kayizzi Ronald

MOYO

25.

HW Nambozo Joy

KAYUNGA

26.

HW Bamuhiga Patric

ISINGIRO

27.

HW Semondo Benson

OYAM

28.

HW Kainza Beatrice

KASANGATI

29.

HW Nalungi Esther

BUBULO

30.

HW Toloko Simon

BUSHENYI/BUHWEJU/MITOOMA

31.

HW Awacnedi Freddie

KOTIDO

32.

HW Mukanza Robert

NEBBI

33.

HW Okumu Jude Muwone

JINJA

34.

HW Nvanungi Sylvia

MASAKA

35.

HW Aciro Joan

ANTI-CORRUPTION DIVISION

OTHER CHIEF MAGISTRATES

37.

Dr. Omalla Felix

INTERDICTION

38.

HW Teko Lokeris Godfrey

 

ACTING CHIEF MAGISTRATES

 

1.

HW Lochomin Peter Fred

PERSONAL ASSISTANT TO CJ

2.

HW Gakyaro Mpirwe Allan

PERSONAL ASSISTANT TO DCJ

3.

HW Neumbe Ritah Kidasa

NAKAWA 2

ND

CM

4.

HW Kosia Kasibayo

MASINDI

5.

HW Ajok Betty

DOKOLO

6.

HW Natwijuka Aloysius Baryeza

IBANDA

7.

HW Nsenge Roseline

KIRA

8.

HW Namusobya Sarah

NABWERU

9.

HW Alule Augustine Koma

RAKAI

10.

HW Niwaha Shallon

MENGO 2

ND

CM

11.

HW Angura Fionah Sheila

FORT PORTAL

12.

HW Nanvuma Jane Frances

MPIGI 2

ND

CM

No.

NAME

COURT

13.

HW Kabombo Andrew

MBARARA

14.

HW Atim Harriet Okello

MAYUGE

15.

HW Okoth Thomas Aquinas

BUSIA

16.

HW Mfitindinda George

HOIMA

17.

HW Nakyazze Rachael

MUKONO

18.

HW Kabahuma Lucy

KIRYANDOGO

19.

HW Karungi Doreen Olga

KAJJANSI

20.

HW Awidi Suzan

MBALE

21.

HW Kabugho Byakutaga Caroline

MUBENDE

22.

HW Namazzi Ann Jacqueline

KIBOGA

23.

HW Adoko Joe Fay

AMURU

24.

HW Epobu Daniel

IGANGA

25.

HW Komakech Kenneth

KISORO

26.

HW Semwanga Nalugya Mariam

LUWERO

27.

HW Osauro John Pauls

MITYANA

28.

HW Owino Paul Abdonson

PALLISA

29.

HW Nashiero Mwandha Robert Ekirita

KITGUM

30.

HW Muhangi Saverino G. Bugingo

KAPCHORWA

31.

HW Akankwasa Edward Kabayo

KIRUHURA

32.

HW Adikin Esther

MAKINDYE 2

ND

CM

33.

HW Gumtwero Justine Olal

KATAKWI

34.

HW Ociba Gloria

KYENJOJO

35.

HW Byamugisha Derick

KABALE

36.

HW Nabukeera Aisha

KAMULI

37.

HW Namisi Hope

KUMI

38.

HW Bagyenda Hope

NAKASONGOLA

39.

HW Koluo Catherine Elayu

SIRONKO

40.

HW Ssajjabi Noah Norbert

PADER

 
 
 
 
 
 
 
 
 
 
 
 
 
 
 
 
 
 
 
 
 
 
 

MAGISTRATES GRADE I

 
 
 
 
 
 
 
 
 
 
 
 
 
 
 
 
 
 
 
 
 
 

No

NAME

COURT

CHAMBERS OF JUSTICES/JUDGES

1.

HW    Atim    Sheilla    Gloria   

(Ag. Principal)

HEAD OF RESEARCH, CJ'S CHAMBERS

2.

HW   Adyero   Caroline   Jean  

(Ag. Senior)

CJ'S CHAMBERS

3.

HW Kyomugisha Prima

CJ'S CHAMBERS

4.

HW    Christine    Turibamwe   

(Ag. Senior)

DCJ's CHAMBERS

5.

HW Mwesigye Julius

PERSONAL ASSISTANT TO PJ

6.

HW Niyonzima Alex

PJ's CHAMBERS

7.

HW Omar Ahmed Halima

PJ's CHAMBERS

8.

HW Lumunye Timothy

(Ag. Senior)

PA to CR

9.

HW Atono Willy

CHIEF REGISTRAR'S CHAMBERS

10.

HW Aciro Jemimah

SUPREME COURT (Attached to Chambers of Lady Justice Stella Arach-Amoko)

11.

HW Baluka Norah

SUPREME COURT (Attached to Chambers of Lady Justice Lillian Tibatemwa)

12.

HW Akello Rebecca

SUPREME COURT (Attached to Chambers of Lady Justice Percy Tuhaise)

13.

HW Nakawuki Teddy

COURT OF APPEAL (Attached to Chambers of Justice Kenneth Kakuru)

14.

HW Wemesa Caroline

COURT OF APPEAL (Attached to Chambers of Lady Justice Catherine Bamugemereire)

15

HW Abilu Isaac

COURT OF APPEAL (Attached to Chambers of Lady Justice Hellen Obura)

16.

HW Nankanja Catherine

COURT OF APPEAL (Attached to Chambers of Justice Stephen Musota)

17.

HW Bamukunda Caroline Clinah

COURT OF APPEAL (Attached to Chambers of Justice Christopher Madrama)

18.

HW Nyakato Maureen

COURT OF APPEAL (Attached to Chambers of Justice Muzamiru Kibeedi)

18

HW Nabayego Proscovia

COURT OF APPEAL (Attached to Chambers of Lady Justice Monica Mugenyi)

19.

HW Kwaga Stellah Ritah

COURT  OF  APPEAL  (Attached  to  Chambers  of Justice Christopher Gashirabake)

20.

HW Musinguzi Rachael

COURT OF APPEAL (Attached to Chambers of Lady Justice Irene Mulyagonja)

21.

HW Namukobe Stella Mary

COURT OF APPEAL (Attached to Chambers of Lady Justice Eva Luswata)

22.

HW Lunkuse Betty

(Acting)

COURT OF APPEAL (Attached to Chambers of Justice Cheborion Barishaki)

23.

HW Nalubowa Mary Goretti

CIVIL DIVISION (Attached to Chambers of Justice Emmanuel Baguma)

24.

HW Namono Maureen

JUDICIAL TRAINING INSTITUTE (Attached to




Chambers of Lady Justice Damalie Lwanga)

25.

HW Amongine Eva Oteu

COMMERCIAL COURT (Attached to Chambers of Lady Justice Susan Abinyo)

26.

HW Kemigisha Millicent

FAMILY DIVISION (Attached to Chambers of Lady Justice Alice Komuhangi)

27.

HW Basaija Steven

FORT PORTAL HIGH COURT CIRCUIT (Attached




to Chambers of Justice Vincent Emmy Mugabo)

28.

HW Kyegombe Enock

MASAKA HIGH COURT CIRCUIT (Attached to




Chambers of Lady Justice Victoria Katamba)

29.

HW Muwonge William

MBALE   HIGH   COURT   CIRCUIT   (Attached   to




Chambers of Lady Justice Margaret Apiny)

30.

HW Namayanja Victoria

ARUA   HIGH   COURT   CIRCUIT   (Attached   to




Chambers of Justice Isah Serunkuma)

31.

HW Agwango Julian

COMMERCIAL DIVISION (Attached to Chambers of Lady Justice Anne Mugenyi Bitature)

32.

HW Tiyo Jonathan

JINJA   HIGH    COURT    CIRCUIT    (Attached    to




Chambers of Justice Tom Chemutai)

33.

HW Nabalayo Diana

CRIMINAL  DIVISION  (Attached  to  Chambers  of Lady Justice Margaret Mutonyi)

34.

HW Nekesa Diana

ANTI CORRUPTION DIVISION (Chambers of Lady Justice Jane Okuo)

35.

HW Kibeedi Peace

INTERNATIONAL CRIMES DIVISION (Chambers of




Lady Justice Elizabeth Alividza)

36.

HW Nyaketcho Joan

CRIMINAL  DIVISION  (Attached  to  Chambers  of Justice Gadenya Paul Wolimbwa)

37.

HW Nabaasa Julian Tumwijukye

COMMERCIAL COURT (Attached to Chambers of Justice Richard Wejuli)

38.

HW Kahunde Kadija

CIVIL DIVISION (Attached to Chambers of Justice Musa Ssekaana)

39.

HW Mbabazi Juliet Praise

LAND DIVISION (Attached to Chambers of Justice John Eudes Keitirima)

40.

HW Wandera Ramathan Akiiki

FORT PORTAL HIGH COURT CIRCUIT (Attached




to Chambers of Justice Vincent Wagona)

39.

HW Aloyo Jennifer

MUKONO  HIGH  COURT  CIRCUIT  (Attached  to




Chambers of Lady Justice Florence Nakachwa)

40.

HW Isingoma Shamila Tindikahwa

FAMILY DIVISION (Attached to Chambers of Justice David Matovu)

41.

HW Nabatanzi Leila May

COMMERCIAL DIVISION (Attached to Chambers of Lady Justice Jeanne Rwakakooko)

42.

HW Twesigye Claire

FAMILY DIVISION (Attached to Chambers of Lady Justice Ketrah Katunguka)

43.

HW Mwanja Brian

KABALE   HIGH   COURT   CIRCUIT   (Attached   to




Chambers of Justice Moses Kazibwe)

44.

HW Waiswa Painento

(Acting)

CIVIL DIVISION (Attached to Chambers of Justice Boniface Wamala)

45.

HW Acham Rhoda Ochom

GULU   HIGH   COURT   CIRCUIT   (Attached   to




Chambers of Justice Alex Ajiji)

46.

HW Nanteza Anne

JINJA   HIGH    COURT    CIRCUIT    (Attached    to




Chambers of Lady Justice Dr Winifred Nabisinde)

47.

HW Mwogera Eunice

CIVIL  DIVISION  (Attached  to  Chambers  of  Lady Justice Esta Nambayo)

JUDICIAL TRAINING INSTITUTE

48.

HW   Bwambale   Daniel   Busathiro




(Ag. Senior Principal)

LAW REPORTING OFFICER I

49.

HW Naigaga Winfred Kyobiika

LAW REPORTING OFFICER II

50.

HW Karamagi Pamela May

RESEARCH

51.

HW Kagoya Jackline

TRAINING

1. 

ANTI-CORRUPTION COURT

52.

HW   Asiimwe   Abert  

(Ag.    Senior Principal)

ANTI-CORRUPTION COURT

53.

HW Mushebebe Moses Nabende




(Principal)

ANTI-CORRUPTION COURT

54.

HW Esther Asiimwe

ANTI-CORRUPTION COURT

2. 

ALEBTONG Magisterial Area

55.

HW Aber Irene

ALEBTONG

56.

HW Kizito Deo Lutalo

ALEBTONG

57.

HW Wamimbi Jonathan William

APALA

58.

HW Martha Taremwa

OTUKE

 

Vacant

ABAKO

 

Vacant

ORUMU

 

Vacant

ADWARI

 

Vacant

ALOI

 

Vacant

OKWANG

 

Vacant

AMUGO

 

Vacant

OLILIM

 

Vacant

OMORO

3.  

APAC Magisterial Area

59.

HW Aballa Godfrey

APAC

60.

HW Adong Molly Alice

ADUKU

 

Vacant

CHAWENTE

 

Vacant

CHEGERE

 

Vacant

IBUJE

 

Vacant

INOMO

 

Vacant

NAMBIESO

4.  

ARUA Magisterial Area

61.

HW Ayola Angela

ARUA

62.

HW Kamuganga Jude

ARUA CITY

63.

HW Tukahaabwe Edgar

ARUA

 

Vacant

LOGIRI

 

Vacant

MADI-OKOLO

 

Vacant

OKOLO

 

Vacant

RHINO CAMP

 

Vacant

ADUMI

 

Vacant

ARIVU

 

Vacant

ODRAVU

5.  

BUBULO Magisterial Area

64.

HW Atunga Marion Lyndah

BUDUDA

65.

HW Afoyorwoth Winny Epiphany

BUBULO

 

Vacant

BUPOTO

6.  

BUDAKA Magisterial Area

66

HW Ikyimaana Farida

(Ag. Senior)

BUDAKA

67.

HW Matanda Abubaker Hassan

KIBUKU

 

Vacant

IKI IKI

7.  

BUGANDA ROAD Magisterial Area

68.

HW Tibagonzeka Jane

(Ag. Senior Principal)

CITY HALL

69.

HW Karakire Edgar

(Ag. Senior)

CITY HALL

70.

HW Muhumuza Asuman

BUGANDA ROAD

71.

HW Owomugisha Sienna

BUGANDA ROAD

72.

HW Otwao Fidelis

BUGANDA ROAD

73

HW    Kirya    Martins   

(Ag.    Senior Principal)

LDC COURT

74.

HW Ninsiima Marion

LDC COURT

8.  

BUGIRI Magisterial Area

75.

HW Achok Abrahams Moding

BUGIRI

76.

HW Mazimwe Lillian

BUGIRI

77.

HW Nabafu Agnes

(Senior)

NAMAYINGO

 

Vacant

LUGALA

 

Vacant

SIGULU ISLAND

9.  

BUHWEJU Magisterial Area

78.

HW Kavuma Dennis

BUHWEJU

 

Vacant

NSIIKA

10.

BULIISA Magisterial Area

79.

HW Atamba Aggrey

(Ag Senior)

BULIISA/BIISO

 

Vacant

BUTYABA

 

Vacant

WANSEKO

11.

BUNDIBUGYO Magisterial Area

80.

HW Arinaitwe Elisha

BUNDIBUGYO

 

Vacant

BUBANDI

12.

BUSHENYI Magisterial Area

81.

HW Tindyebwa Kingi C. Adyeeri

RUBIRIZI

82.

HW Mwali Stella

BUSHENYI

83.

HW Tusasirwe Jonard

BUSHENYI

No

NAME

COURT

84.

HW Mayanja Phillip Mukasa

BUSHENYI

 

Vacant

KIBINGO

 

Vacant

KITAGATA

13.

BUSIA Magisterial Area

85.

HW Adelo Susan

BUSIA

86.

HW Avako Specioza

BUSIA

 

Vacant

LUMINO

 

Vacant

MAJANJI

14.

GOMBE Magisterial Area

 

Vacant

BULO

87.

HW Asiimwe Bob Simplex

(Acting)

BUTAMBALA/GOMBE

88.

HW Kitiyo Patrick

BUTAMBALA

 

Vacant

KIBIBI

15.

DOKOLO Magisterial Area

89.

HW Kaibei Cherotich

DOKOLO

90.

HW Butoto Hassan Masaba

AMOLATAR

 

Vacant

NAMASALE

 

Vacant

APUTI

 

Vacant

AWELO

 

Vacant

BATA

 

Vacant

KANGAI

 

Vacant

KWERA

 

Vacant

AGWATA

 

Vacant

MUNTU

16.

ENTEBBE Magisterial Area

91.

HW Kabugho Elizabeth

(Ag Senior)

ENTEBBE

92.

HW Sikhoya Naume

ENTEBBE

93.

HW  Okwong  Stella  Paculal 

(Ag. Senior)

ENTEBBE

 

Vacant

NKUMBA

17.

FORT PORTAL Magisterial Area

94.

HW Ayebare Daphine

FORT PORTAL

95.

HW Mwesiga Dan

FORT PORTAL

96.

HW Namankati Annet

FORT PORTAL

 

Vacant

HAKIBAALE

97.

HW Alinda Isha

(Ag Senior)

KIBIITO

 

Vacant

RWIMI

18.

KANONI Magisterial Area

 

Vacant

KABULASOKE

 

Vacant

KANONI

 

Vacant

KIRIRI

 

Vacant

MADDU

19.

GULU Magisterial Area

98.

HW Kwizera Vian

GULU

99.

HW Amoro Miriam

GULU

 

Vacant