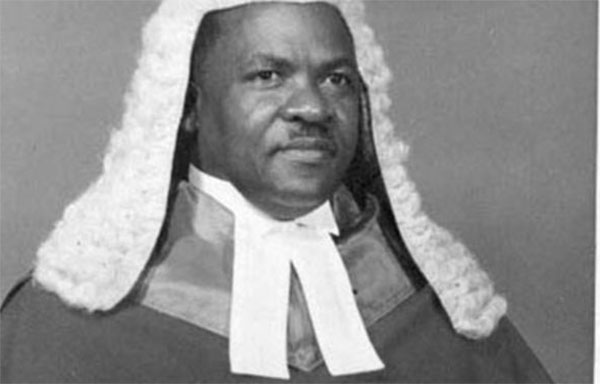 The theme of this year's Memorial Day celebration was, "Benedicto Kiwanuka: Enhancing Judicial Accountability, Transparency and the Rule of Law."
On the celebrations held at the High Court grounds on Thursday 21st September
 2023, the chief Justice Alfonso Owiny-Dollo urged judges in public offices to respect the rule of law while serving the public.
"For those of us, who hold public offices, history will judge us harshly; we owe it to ourselves to respect the rule of law," Owiny-Dollo said. He added, "Chief Justice Benedicto Kiwanuka lives with us. He is our inspiration and he is the reason why we are here. It is part of honoring his memory for us to speak to one another instead of going up in arms as this is costly."
CJ Owiny-Dollo also noted that it is the responsibility of the judges in this country to protect and defend the rule of law. 
As the Judiciary Service continues to draw inspiration and motivation from the works and service of Benedicto Kiwanuka, CJ Owiny-Dollo reminded the judges of their constitutional obligation and accountability of their decisions saying; "Accountability has been expressed to mean the acceptance of responsibility for one's own actions, including a willingness to be transparent and allowing others to observe and evaluate one's performance. Judicial Officers are not only individually accountable internally to the Judiciary Service but we are also externally accountable to the public that we serve," 
"With better funding of the Judiciary, we can truly honor the memory of Chief Justice Benedicto Kiwanuka better, by affording access to justice to all justice seekers in this country. We owe it to Chief Justice Benedicto Kiwanuka to do all that is within our individual and collective power, to further advance the cause for justice. I call upon all the people of Uganda, the Government, and Non-Government Agencies, to join hands, so that together we strive for the Rule of Law, access to justice and observance of human rights for all our people. It is incumbent on all of us to search our individual and collective souls and establish whether in the pursuit of the law we are inspired by what he stood for without fear." CJ Owiny- Dollo added,
 "I have seen agencies of the state committing sacrilege in interpreting court decisions. This is wrong and contrary to the rule of law." 
The Chief Justice strongly criticized government institutions for disregarding court orders and decisions issued by judicial officers, stating that this undermines the rule of law. Chief Justice Alfonse Owiny Dollo emphasized the need for the Attorney General to advise government agencies on respecting these legal decisions. Dollo made these remarks during the commemoration of the late Chief Justice Benedicto Kiwanuka at the judiciary headquarters in Kampala.
Speaking at the same event, Deputy CJ Richard Buteera said that judges should see to it that citizens enjoy equal treatment of the law.
The Uganda Law Society President Bernard Oundol applauded the Judiciary Ieadership and the Government of Uganda in ensuring that the Judiciary gets the required resources to administer Justice in this country.
Former Prime Minister Hon. Ruhakana Rugunda who represented President Museveni thanked the leadership of the Judiciary for organizing the 6th Benedicto Kiwanuka Memorial Lecture. He appreciated him for being highly trained in matters of law and a great national asset, given his qualifications and experience.
Kiwanuka was born on May 8, 1922 in Kisabwa village Bukomansimbi District. He served as a clerk and Interpreter at High Court in 1945 before being appointed as Library Assistant which enabled him to read a number of books on law. Ben Kiwanuka is remembered for having been a selfless defender of human rights and rule of law for which is said to have paid a precious price.
Before joining the Judiciary, he was a strong politician who was instrumental in the process of Uganda gaining its independence from the colonialists in October 1962.
In 1972, soldiers under the command of then President of Uganda Idi Amin Dada dragged  Ben Kiwanuka out of his chambers at High Court, announced dead, however up todate, his remains have never been seen again.
 PICTORIAL: