Lady Justice Mary Stella Arach-Amoko TRIBUTE
Forever in our hearts
A Parting Toast to Stellar Performance
(Eulogy Poem by Justice Musa Ssekaana)
The wind rustles thru the leaves of the tree 
To rumble through the rafters of the tin-roof 
The sun's legs from dark clouds break free
As grief is laid bare to silence the laughter 
The scales of justice titter in no ones favor 
Rolling back years of incessant palaver 
The final curtain falls over an old hand and wise mind 
That dutifully dispensed justice with grace and valour
For a Stellar performance, I Move a sincere toast to Lady Justice Mary Stellah Arach Amoko 
My Mentor and our mother with a firm grip on the Garvel 
In whose indelible footprints we are blessed And grateful travel.
I celebrate the life and work of Lady Justice Mary Stella Arach-Amoko.
May you Rest in Everlasting Peace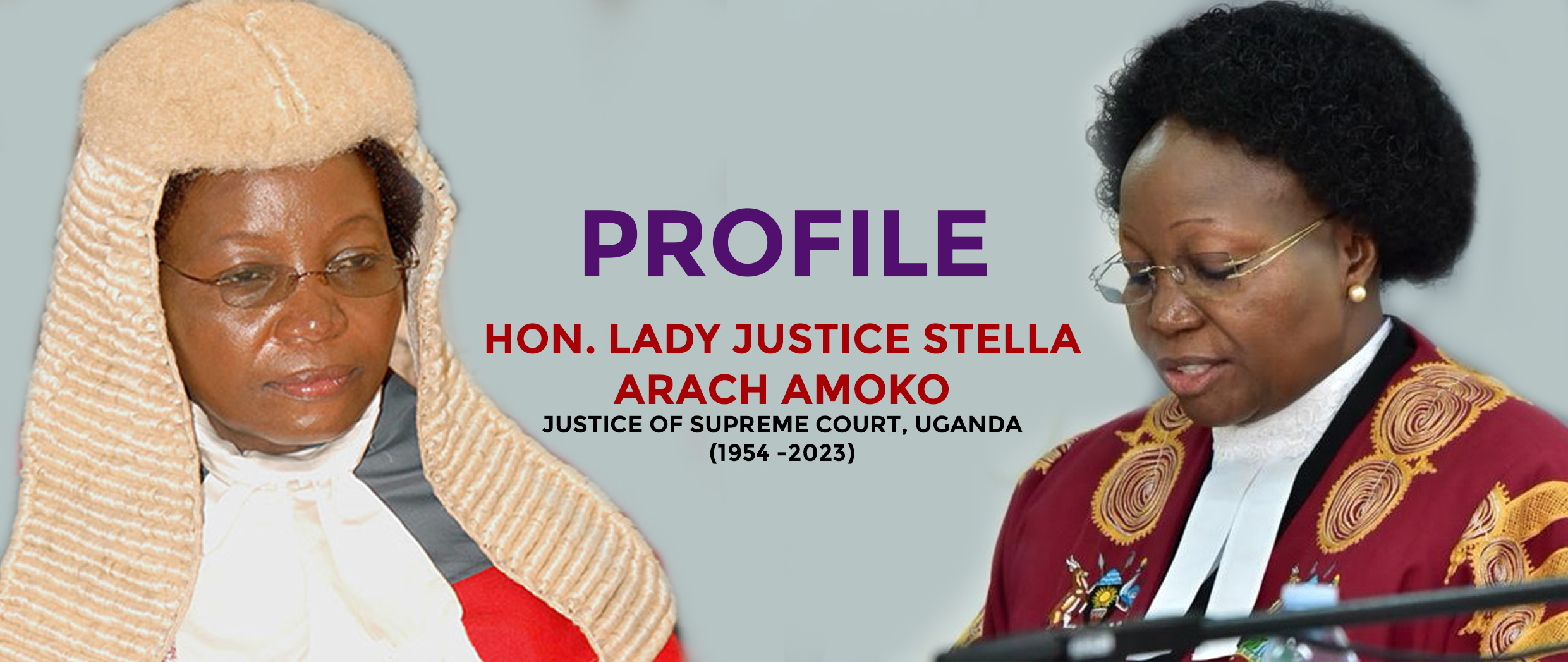 Lady Justice Stella Arach-Amoko has had a long illustrious legal career spanning 44 years. At the time of her death on June 17, 2023, she was serving as a Justice of the Supreme Court, a position she was appointed to in 2013.
She started her career as a Pupil State Attorney in 1979 in the Ministry of Justice and Constitutional Affairs and rose through the ranks to the position of Commissioner in Charge of Civil Litigation. It is from there that she was appointed Judge of the High Court (1997). Justice Stella Arach-Amoko was elevated to the Court of Appeal in 2010 where she served for three years before being appointed to the Supreme Court. 

In January 2021 she was appointed as a Member of the Judicial Service Commission representing the Judiciary, a position she held until her demise. 

In 2006, she was appointed a Judge of the East African Court of Justice until her elevation to the position of Deputy Principal Judge at the Court in 2008. 

Lady Justice Stella Arach- Amoko has been an extraordinary jurist who has been a champion of justice. A mentor to many, Lady Justice Stella Arach-Amoko has been described as an icon of justice, whose legal mind and dedication have left an indelible mark.
Lady Justice Stella Arach- Amoko held many leadership positions including Chairperson of the Law Development Centre Management Committee and President of the National Association of Women Judges. 
She was born on 5th October, 1954 and is survived by her husband, Ambassador James Idule Amoko, children and grandchildren.
TRIBUTES
" Arach encouraged me to join the bench after identifying me from private practice.  I refused and I told her that I was still making some money in private practice. Later in 2015, she asked again and I told her I would think about it and after discussing it with my wife. I accepted and she was my referee. She has always guided me on all the complicated cases. "
 Hon. Justice Musa Ssekaana
" I appeared before Justice Stella Arach Amoo several times be it at the High Court, Court of Appeal, and the Supreme Court. Arach Amoko was always humble, courteous, and soft-spoken but indeed very firm. "
Attorney General of Uganda, Kiryowa Kiwanuka
" Justice Amoko was a soft-spoken, level-headed, and venerable jurist or sage who endeavored to uphold the judicial oath under very challenging circumstances.
You will be dearly missed Lady Justice Stella Arach Amoko. May your soul rest in eternal peace. "
Lawyer and Kampala Lord Mayor, Erias Lukwago
" She was stylish too! Loved to dress elegantly! She was willing to train and coach others. During our orientation as newly appointed judges, following a discussion on judgment writing, l remember her telling us: "Just because you must apply the law does not mean that you will throw common sense out of the window. "
Lady Justice Susan Okalany
" She had a vast experience as a draftswoman while in the Parliamentary Council. She did her work with a lot of simplicity, courtesy, and with a big eye for detail. If you winked on the wrong edge of her pen, you would see her judgment. She spearheaded the review of the curriculum when the failure rate was high and overwhelming at LDC "
High Court Registrar, Faisal Mulalira
" Coming soon after we lost Justices Kenneth Kakuru and Opio Aweri, this is such a heartbreaking blow to the Judiciary. I convey heartfelt condolences to the family of Lady Justice Stella Arach Amoko, the Chief Justice, and the entire Judiciary. Uganda has lost a first-rate Judge. "
Minister of Justice, Norbert Mao
" It is a huge loss to us as the judiciary family and the country at large. She was an icon for justice, a mentor and mother to many. Wherever I met her, she was Mother. I all the time called her Mother and she responded, "Yes, my daughter," with a sweet smile. I will miss her. "
Chief Magistrate Gladys Kamasanyu 
Standards Utilities and Wildlife Court